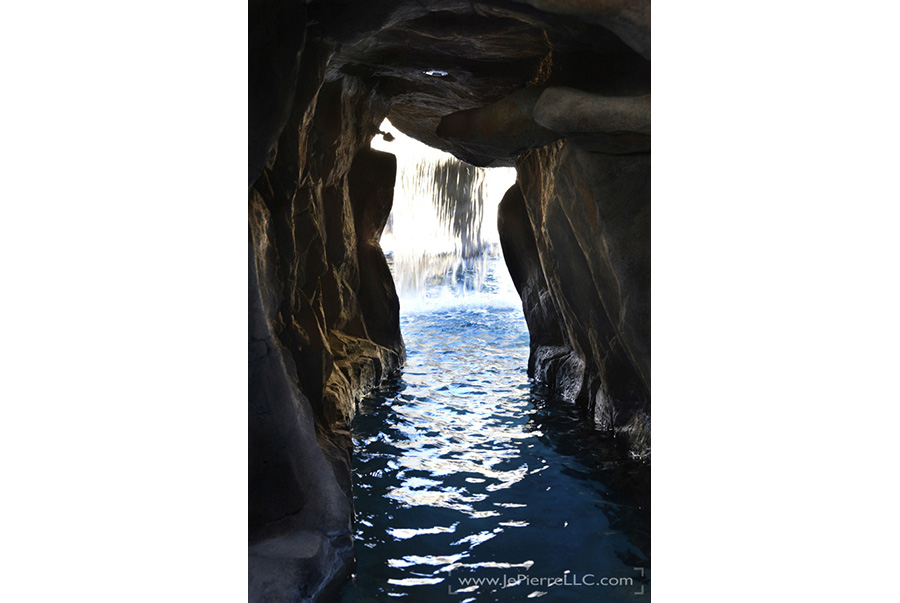 Are you thinking of installing a pool cave or grotto? A grotto is a natural or artificial cave often near water and often flooded or liable to flood at high tide. When talking about a pool grotto; however, while there's no need to worry about high tide, a pool grotto is usually at least partially submerged in water at all times. Depending on the design, a rock waterfall may cascade over the top of the pool cave and spill into the main part of the pool.
Selection of the location and size of a pool cave is up to the owner and designer. The choices are almost endless. For example, a grotto can be near the shallow end of the pool with water cascading over it, providing shelter from the sun and the cooling effect of the water as it splashes down. Other pool caves have been built to create dramatic backdrops in large hotel pools acting as a focal point for the entire resort. Upon completion of pool caves, guests can swim out to the grotto, hop up on a bench built under the water and enjoy being partially submerged while tucked away from the world. Larger pool caves can include lighting features so that evening swimming is more enjoyable. As you can see, the options are only as limited as your imagination!
Artificial rockwork is often used when building a large pool cave or grotto in areas where there is limited access to the backyard or commercial installation site. Should natural rock be used instead of, or in addition to artificial rock,  heavy equipment such as cranes and skid loaders will require access and clearance to move boulders around the installation site.
When designing a grotto or pool cave, care should be taken to consult with the homeowner or property manager to determine the exact components of the water feature. Some individuals will want a big rock grotto so that swimmers can jump into the pool below. Others, for safety, insurance or other reasons will want to prevent guest access to the top of the grotto. Numerous hotel bars have been built into a pool cave where patrons can swim up, have a seat and order a drink. Having a clear view and a detailed pool design plan will facilitate the construction of your pool cave or grotto. Should you need assistance, your pool contractor can surely guide you in the right direction.